So, you got your first motorcycle in the spring a few months back, just in time for the best part of the riding season. You took a few MSF Basic Rider courses and even put a couple thousand miles on your new bike, leaning into those amazing summer days. Damn, it feels good to ride that bike. But you're starting to wonder if it's too small or too slow for you. Plenty of your fellow motorcycling friends own bigger and more powerful bikes and you've heard that it's not uncommon for new riders to outgrow their first bike.
How do you know if you're ready to swap your beginner motorcycle for something different? Is it really true that all new riders eventually outgrow their first motorcycle? Did you make a mistake by not diving into the deep end and buying a mid or high powered bike right off the bat? Of course, we can't say the case is the same for every person. But it's true that most riders won't stick with their first bike forever, for both good and bad reasons. Let's talk about what makes some bikes qualify as beginner motorcycles and why many riders move on from their first.
Common Features of New Rider Bikes
Every person is different, and the type of riding you're interested in will absolutely have an influence on what bike you choose as your first. That said, most beginner motorcycles are low cc because they tend to be more forgiving. A 200 or 300cc is small, light, manageable, and more often than not, a ton of fun to ride. They give you the flexibility to focus on the primary fundamentals of riding like vision and body positioning. There's a good reason why safety courses don't give riders 600cc or larger. While its possible to learn on a bike of this size, you're introducing more risk than is necessary and there's a bigger possibility of being discouraged or turned off from riding altogether.
In addition to size and power, the best beginner motorcycles also have neutral motorcycle ergonomics and often come at lower price points than some of the bigger bikes with more finish details and components. Used bikes are popular option for beginners because they depreciate in value less and are more likely to offer most of your money back if and when you decide to upgrade to something different.
Some Popular Beginner Motorcycles
There's a million and one lists online with suggestions for great beginner motorcycles, and you should absolutely do your due diligence by reading and researching multiple. With so much overlap, it would be silly of us to claim that our list was any better than others out there, so you'll just have to trust that we have some sage opinions, having been in the industry for more than 30 years.
Beginner Adventure Bike: BMW G 310 GS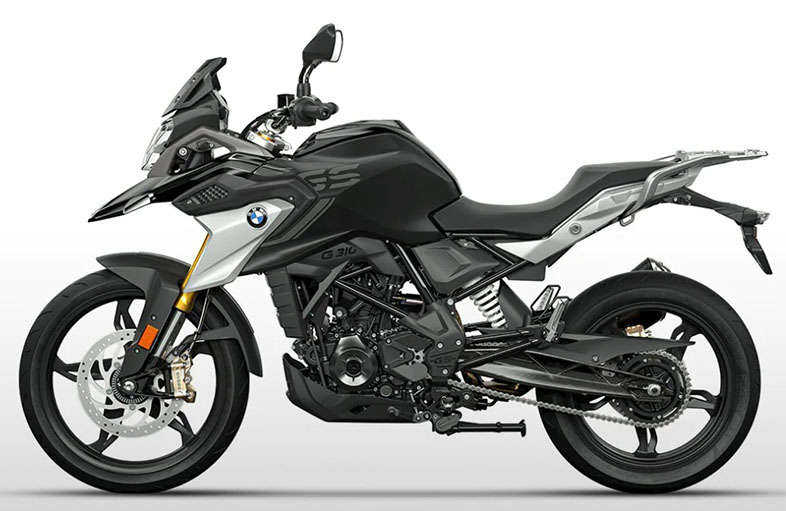 This is small-displacement version of one of BMW's most popular models of all time. Capable of both touring and light off-roading, this model is learner-friendly and has the appearances of its larger sibling.
Engine: Liquid-Cooled 313cc Single-Cylinder
Power: 34HP & 20FT-LBS
Top Speed: 88MPH
Weight: 386LBS
Beginner Cruiser: Yamaha V-Star 250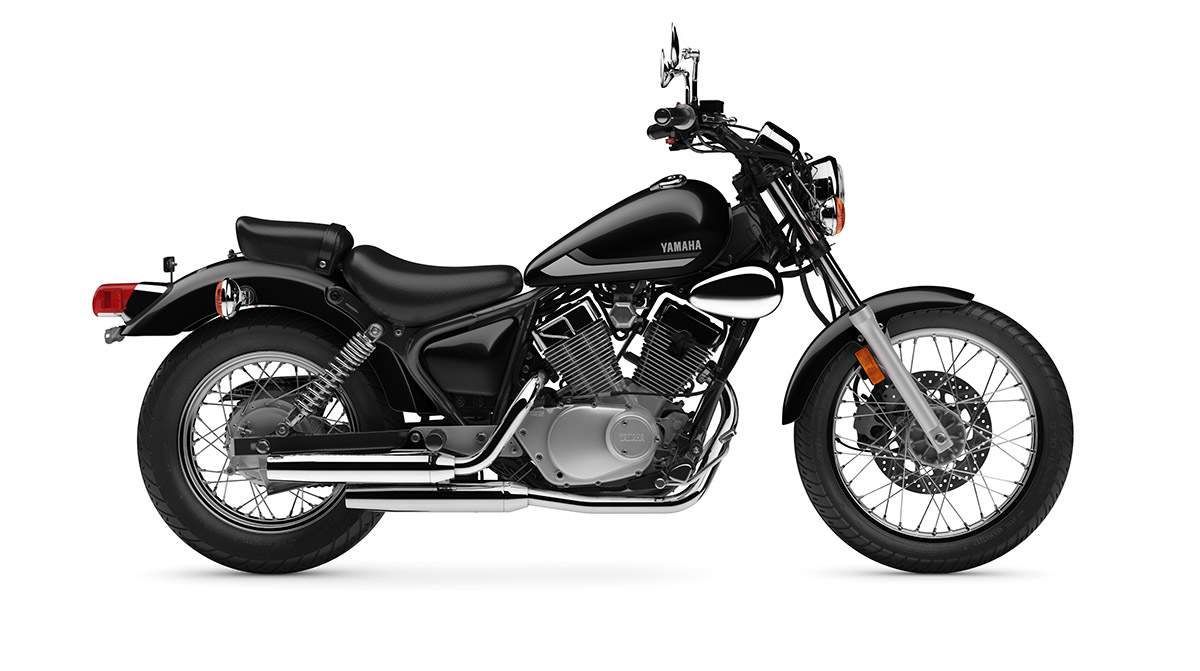 With a genuine V-Twin engine, this small sized bike gives you the look and feel of an authentic cruiser. Perfect for commuting around town or touring, the V-Star offers great fuel economy and easy handling to beginner riders.
Engine: Air-cooled 249cc V-Twin
Power: 21HP & 15.2FT-LBS
Top Speed: 85MPH
Weight: 324LBS
Beginner Sport-Bike: Kawasaki Ninja 400
Incredible value and the leader in its segment, the Ninja 400 has effortless handling, manageable power delivery is manageable, and a relatively comfortable saddle for longer rides. With easy upkeep, you may be hanging onto this bike for years to come.
Engine: Liquid-Cooled 399cc Parallel-Twin
Power: 45HP & 28FT-LBS
Top Speed: 105MPH+
Weight: 366LBS
Beginner Standard Bike: Honda CB300R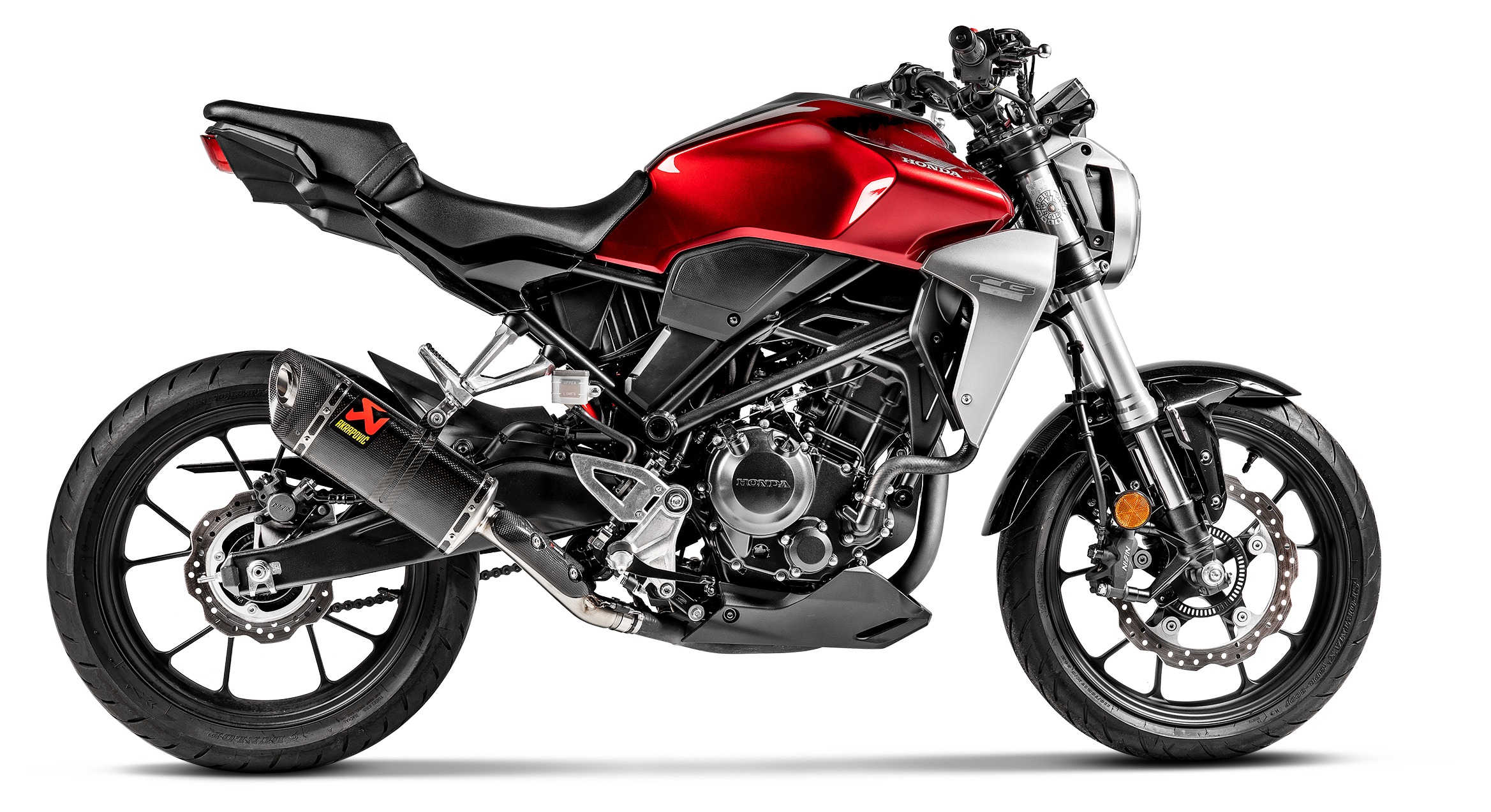 If you like the classic look of "naked" bikes, the café racer frame on the Honda CB300R is the perfect choice of beginner standard. Beyond its good looks, it can easily handle roads both in town and on the highway.
Engine: Liquid-Cooled 286cc Single-Cylinder
Power: 27.5HP & 20.3FT-LBS
Top Speed: 92MPH
Weight: 317LBS
Reasons Why Bikers Outgrow Their Beginner Motorcycles
Whether you're years into riding on your first motorcycle or just a few months, there's a lots of reasons you might be considering a different model. Just like you did when selecting your beginner bike, it's always important to take a step back and consider why want a new motorcycle and what you're looking to get out of it. Here are a few common reasons why other riders swap their beginner motorcycle for something different.
Increased Skill
In most cases, "outgrowing" your beginner motorcycle really comes down to you building riding skills. Each bike comes with its own set of challenges, riding style, and of course, potential dangers. If you've truly mastered your first bike and feel as though your skills are at the top limit of what your current model allows, the next bike will allow you to repeat the learning process but with an established base. By then, you've also formed a better understanding of what those cc's actually mean in terms of your riding experience. You'll be able to notice the differences between your current bike and other (potentially bigger models) with much more specificity than when you were choosing your first bike.
If you want to keep building your skills and pushing your limits, then buying a bigger more powerful bike is a logical path to take. Just remember to take your time learning and always test drive before you choose your next model.
Changing Your Motorcycle Style
Let's say you bought a cruiser or standard bike first and rode it back and forth to work every day. In fact, the commute was one of the best parts of your day. So good that you want to enjoy motorcycling on more than just your town streets. If you're itching to hit those curvy country roads for a whole weekend—or more—it makes sense that you might need a new style of bike. The more you ride and get into motorcycling the more you'll develop a taste for the type of riding you like to do. It's not unusual for your needs to develop beyond that of your first bike. Plus, if you have the buying power and garage space, you can always keep your beginner motorcycle for whenever you want to switch back or feel a little nostalgia.
Peer Pressure
The unfortunate truth is that peer pressure is not an uncommon reason for beginner riders to switch to a larger bike or buy one that's too big in the first place. We love the motorcycle community (and we generally adore big bikes) but there's often a misconstrued association between bike size and masculinity. You might hear certain smaller models called "chick bikes" or that you ought to upgrade to a "big boy" bike. But when it comes to choosing your motorcycle, you really shouldn't listen to anyone but yourself on what type of bike is best suited for you.
Some people will even use "outgrowing" as a reason to select a mid-large sized bike right out of the gate. It may be practical to assume that if beginner motorcycles are often outgrown, you should just start with a larger model and grow into it instead for more value and time out of your first bike. But consider the consequences of choosing a bike before you're ready for it:
"A friend of mine was warned about outgrowing her beginner bike by the salesman. So she bought a bike that was bigger than what she wanted. Now, she is too scared to ride it and I think has given up riding ever again." – anonymous rider on MotorcycleForum
If you ask most riders about their beginner motorcycles, even if they've had multiple iterations after that, most of them will say how much fun their first bike was. By choosing a model that's suited for your experience level, you worry less about keeping the bike under control and more about the joy of riding and picking up new skills.
How to Make Your Beginner Motorcycle Go the Distance
If you're interested in making your first bike last multiple years, our suggestion is not to search for a model that is more powerful, but rather to find something that can change with you. Over the years, you can customize for your growing riding style with different motorcycle modifications. You may want to change the handlebar position or bend a bit to give you better control over your bike. Change the saddle or get new foot pegs to adjust the riding position. You can even upgrade your suspension to keep improving those beautiful corners or swap your tank for a bigger one if you want to ride longer and further than your base model allows.
On the flipside, modifications can also help you in sizing up. Bigger bikes require more balance, strength and control to make turns and keep them upright. Increase your steering powering by ensuring your hands and arms are in the best resting position. Before you pick a bigger model, check to see if we make matching handlebar risers (we probably do) so that you can have that added confidence when leveling up.
Your bike should fit you, not the other way around. Beginner bikes exist for a reason but still have the ability to grow with you. In the end, there's no way to guarantee that your first bike will stick around in the long term. All you can do is practice riding, fall in love with the hobby, and see where it takes you.
Is There Really Such Thing as a "Forever Bike?"
While we're on the topic of keeping a motorcycle for an extended period of time, we might as well bust the myth about the forever bike. Sure, you've probably met a guy who has owned his HOG for years, spent plenty of money maintaining it, and has no plans to buy a new one in the future. But this guy is the exception to the rule. Whether we plan for it or not, our motorcycle needs change over time. In addition to our skill level and riding style developing, our bodies also change as we get older and can sometimes force us to reconsider our bike selection.
There are lots of reasons to move from one bike to another—too many to avoid. So, although we definitely believe in getting the full life out of every motorcycle you own, don't be afraid to shop for something new if the need (or desire) arises. Whether it's a for sale sign on a used bike you spotted in your neighborhood, a new model getting pushed out by your preferred manufacturer, or just the black hole of motorcycle research during those cold winter months, motorcycles are undeniably addictive. It's true that you can outgrow your bike, but who are we to deny you any other reason for making a new purchase!
Maybe you've held onto your beginner motorcycle for many years. Or alternatively, you ditched the small model after just a few weeks. If you have a story to share about being a new motorcycle rider or some advice on selecting your first bike, shoot us an email or leave a comment below.