With an aching back, numbness in your wrists, and fatigue after just a few miles, you know something about your riding position needs to change, but what exactly?
One of the beauties of owning a motorcycle is making it uniquely yours—customizing its look, speed, and perhaps most importantly, it's fit. But with so many different motorcycle modifications out there and varying terms for similar products, it's hard to know where to start.
This won't be the first, or last, time we tell you that your handlebars can change your rise, pullback, and hand placement for a completely different ride. This isn't just about motorcyclists being fussy, although there's that too. It's about perfecting the ergonomics of your bike's layout for long-term control and comfort.
Changing Motorcycle Handlebars
Even with a loss of feeling in your hands, pain and fatigue in your back and forearms, it can take some riders years of aching to realize that the cause of their discomfort is the positioning or size of their handlebars.
Luckily, adjusting motorcycle handlebars or replacing them with a better suited model is one of the easier ways to upgrade your ride for better handling and enduring comfort.
But slow your roll, you can't just go out and buy the first shiny pair of handlebars you spot. Depending on the product you choose, changing motorcycle handlebars can sometimes require costly modifications. You should always consider your handlebar size and the aspects of your positioning that need to change before deciding on how to change motorcycle handlebars.
Understanding Handlebar Rise, Offset & Hand Placement
Changing your handlebars means more than just adding a few inches here or there. You want to consider what your ideal hand placement is to maximize comfort while riding. The right pair of handlebars will keep your wrists and forearms aligned, rather than bent. With the correct hand placement, you will sit upright, reducing back pain and weight strain on your wrists.
How We Measure Motorcycle Handlebars:
Center Width: for bars that are mounted with clamps, the center to center measurement of the clamps.
Overall Width: covers the full length of the handlebars, end to end.
Rear Offset: how far the hands come back from the stock placement.
Rise: how high the hands come up from the stock placement.
We recommend you sit on your bike in the garage, place you hand on the stock grips and close your eyes. Now move your hands to where you think you want them to be after your modification. Measure the distance up and back from where your stock location is to where you want your hand to be – this is the net gain you are trying to accomplish.
Whichever handlebar modification you choose, focus on evaluating how it will change your hand placement, rather than the measured rise.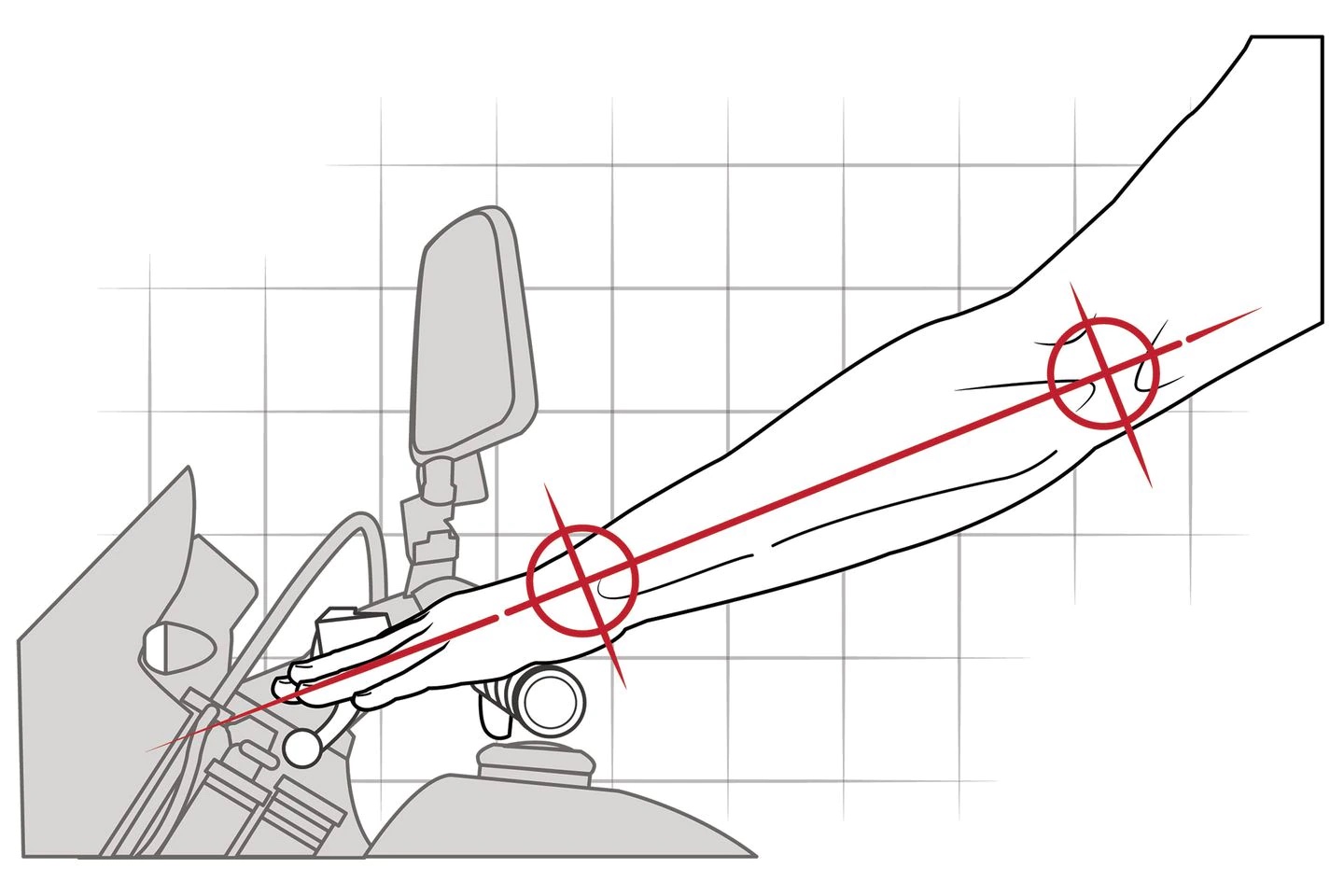 Types of Motorcycle Handlebar
So it's time to adjust or replace your motorcycle handlebars. Do you need handlebar extensions or custom handlebars? Risers or clip-on handlebars? Let's discuss the different types of motorcycle handlebars you might consider and how each with affect your ride.
Handlebar Risers
Motorcycle handlebar risers fit in between the stock handlebar and the original perch or clamp set on the triple clamp. This option requires minimal modifications to your bike as they work with your existing handlebars. At most, you may need to reroute your lines.
We design our handlebar risers to be model-specific, so that you get the best fit for your BMW handlebars, Honda, Yamaha, or other. They maintain your bike's original geometry while providing more control on your rides. These American-made handlebars are built to last and can handle whatever riding style your bike was built for.

Motorcycle Handlebar Extensions
The short and long of it is that motorcycle handlebar extensions or extenders are just other words for handlebar risers. The purpose of these products is to increase the rise of your stock handlebars and change your overall hand placement.
Adjustable Handlebars
Adjustable motorcycle handlebars are exactly what they sound like. Rather than adding onto or changing your stock handlebars, this type of handlebar modification replaces your current bars. Replacing motorcycle handlebars completely can provide a better fit for bikes where the handlebar positioning may not be able to change as drastically with only risers.
HeliBars designs fully adjustable handlebars that are built to use the same mounting holes and head screws as your stock handlebars for easy installation. Once mounted, you can adjust the pullback, rise & angle of the handlebars to suit your body size and preferred riding position. Discover the benefits of adjustable handlebars for Harley Davidson, Can Am, Kawasaki, and more.
This innovative engineering truly allows for a perfect fit for all riders. If you need installation information for a set of HeliBars adjustable handlebars, please contact us with all your questions.
Clip-On Handlebars
Clip-on handlebars are also replacements for your bike's stock handlebars. This type of motorcycle handlebar comes as a set that mount directly onto the motorcycle's front forks. They are most common among sport bike riders as they allow for a more forward leaning riding position. There are clip-ons available for cruisers, café racers and other bike styles.
HeliBars rotate the downward swept angle that is common in sport bike handlebars. With this rotation we can achieve the height advertised. By rotating this angle, we are aligning the wrist and hand into a more neutral position for added comfort, which in turn can extend riding times.
Custom Handlebars
If there's one thing we'd suggest beyond evaluating the comfort of your current riding position, it's to be wary of the word 'custom' when searching for a solution to your pain. Although there are some amazing manufacturers of totally custom handlebars (often at a steep cost) there are equally as many brands that throw around the word custom like a bit of glitter.
There are plenty of handlebar modifications that are model specific like our risers, but many handlebars that claim to be custom are merely a standard model and size with a different look and finish. While adjustable handlebars can create a custom fit, we wouldn't go as far as to call them custom-made.
Be cautious when searching for custom motorcycle handlebars and feel free to get in touch with us if you need some advice on what to look for.
Ready to Kick Pain to the Curb?
Now that you know how to evaluate your current riding position, how your handlebars might be causing you pain, and you understand the different types of motorcycle handlebars, you're ready to begin thinking about modifications.
Up until now, you may have thought your bike just wasn't working for you, but before you ditch it for a completely different model, explore our handlebar risers and adjustable handlebars. You may be able to go farther and feel better just by changing your bike's ergonomics with handlebar modifications.
Not seeing your bike among our products? Don't give up hope yet. Here's a quick HeliBars guide to determining if you can achieve riding comfort with one of our products.