While Harry may have started his tinkering on sport bikes like the VFR700F2, touring motorcycles quickly became a big part of our focus. Of course, it's important for touring bikes to have powerful engines and plenty of room for luggage or even a passenger on your journey. But perhaps more important than anything is the comfort of your touring bike. As your daily companion from city to city or even state to state, comfort is key in making a touring bike truly a joy to ride. So it makes sense that the connections our business has made over the years often come from the touring community, like our friends at WingStuff.
If you haven't noticed, touring season is upon us. With the motorcycle industry continuing to grow, and many cities returning to pre-pandemic tourism, this touring season may be a bigger boom than ever before. And while we've already covered the essentials of a long distance ride, touring is its own beast. For those new to touring and psyched on the idea of taking your bike across the country, here's the basics.
What Are Touring Motorcycles and How Are They Different?
Some people may argue differently, but you can't just hop on any bike and cross state lines. Touring motorcycles are designed for long distance trips and often take into account the need for more cargo and longer pauses between refuel stops. They are larger and heavier than other types of motorcycles, with powerful engines to help bear the extra weight, which can make them difficult to handle for newcomers.
Even within the touring motorcycle category, there are a few different types of bikes corresponding with different terrains. Adventure tourers, for example, are equipped for more off-road travel while sport touring bikes focus on speed. But we're going to focus our attention on the classic full-dress tourers which are designed for paved roads and offer additional distance travel features like larger windshields, hard luggage, and extra fuel tanks.
Probably most well known is the Honda Gold Wing, but Harley Davidson's Electra Glide, the Ducati Multistrada, Kawasaki Vulcan, and Yamaha Star Venture are among other popular touring models.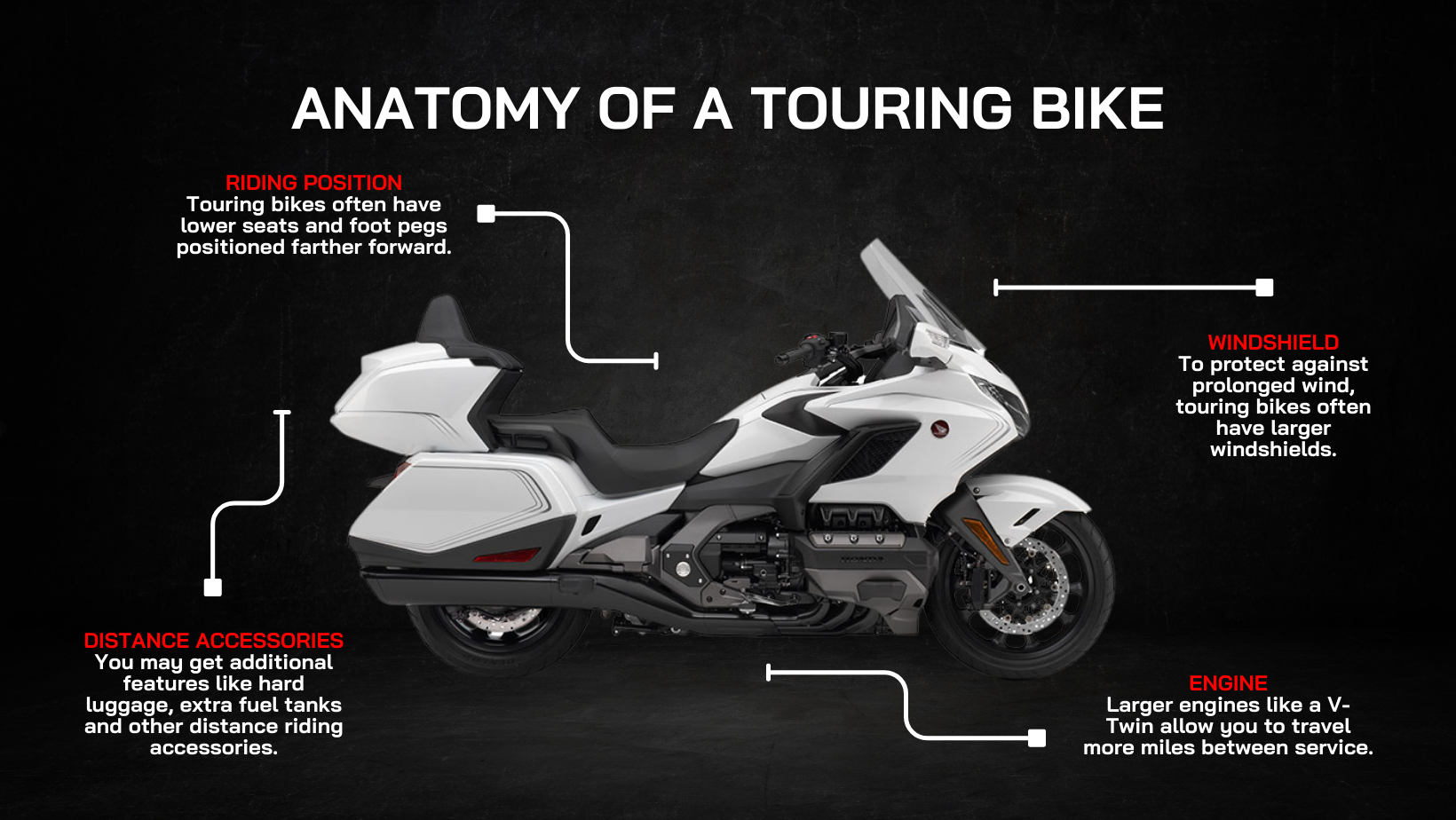 Touring Motorcycle Riding Position
Sick of us talking about motorcycle ergonomics yet? We can't help it! Riding position is so important to the comfort and safety of motorcyclists and it's one thing that sets touring bikes apart from other styles of motorcycle. The touring riding position is similar to cruisers with a lower seat and foot pegs positioned farther forward for more relaxed riding. There is often a passenger seat with a backrest for maximum comfort.
While all of these features are aimed to make longer distances in saddle less physically taxing, they can have their disadvantages too. Lower seat position and forward foot pegs means you are further away from your handlebars. This can make controlling these big bikes feel daunting. And if you're of less than average height your arms may even be straining to maintain a solid grip.
This is crux of why touring motorcyclists are a big portion of the HeliBars community. Let's say you're planning to take on California's Highway 1 with its stunning coastal views and Big Sur destinations in your Honda Gold Wing. But the last time you took it on curvy roads it left you feeling strained, sore and maybe a little out of control, and curvy is the whole point of Big Sur Highway.
By adding a set of HeliBars Tour Performance handlebar risers you can more easily and comfortably maintain a controlled grip on your bike's handlebars, making that road trip safer and more enjoyable. Not all riders will need handlebar risers but if you're new to touring, make sure you spend time evaluating the comfort of your current riding positions by taking some trial rides at increasing distances. Better to prepare than have your vacation ruined by numb arms and aching wrists!
Enough about riding position, let's talk about some of the fun aspects of planning any motorcycle touring trip!
Choosing Your Touring Route
What type of tour are your looking for? Do you want to hit some sweet coastal towns for sightseeing and a guaranteed hotel bed each night? We have a soft spot for Maine's coastal route 1 where you'll pass through dozens of historic towns and villages with lots to offer for lodging and dining. Prefer to focus on seeing lots of nature on your route and don't mind sleeping at a campground at day's end? This touring route will take your through 3 iconic national parks. Ready to truly explore the world on two wheels and have the funds for something more exotic? We're dreaming of this motorcycle tour of Hawaii's Oahu--you'll just need to accept a rental bike for this one.
Of course, there are hundreds of routes to be ridden across the US and beyond, and you can always make up your own! Explore additional touring options by region, carefully curated by Rider magazine.
Packing for Your Motorcycle Tour
The type and amount of motorcycle luggage needed will depend on the length of your trip and whether or not you will be motorcycle camping or staying in established lodging. But not matter which motorcycle baggage you choose, the reality is that two wheels can only hold so much, so planning your packing list efficiently is important. Here is some of the essential gear you can't miss:
Comfortable helmet, jacket, boots, and gloves suited for long distances and variable weather
Lightweight, waterproof clothing in case of rain
Basic medical supplies for any minor injuries or health issues.
Maps and GPS devices, ideally waterproof
Flat repair kit, portable air compressor, fuel siphon, and mini toolkit to make small roadside repairs
Sunscreen!
To save space when packing you can use compression bags or even roll your clothing rather than folding it. You should also keep in mind that weight should be distributed as evenly as possible on your bike.
Motorcycle Touring With a Group
Touring with a group of fellow riders can enhance your overall experience and provide several benefits, especially for newcomers to touring. One of the main advantages is the shared experiences and camaraderie that comes with touring in a group. Being able to share the excitement, challenges, and memorable moments with like-minded riders can often lead to lasting friendships. You can exchange stories, tips, and recommendations, and build connections that extend beyond the road.
Safety and support are other significant benefits of touring with a group. Riding in a group provides an added layer of safety, as there are more eyes on the road, alert to potential hazards. In case of any mechanical issues or emergencies, fellow riders can provide assistance and support. Having a group to rely on can bring peace of mind and ensure a smoother journey.
Connecting with the touring community as a newcomer is easier than you might think. One way is to join local motorcycle riding groups or clubs that focus on touring or long-distance rides. Participating in group rides and events allows you to connect with experienced tourers and learn from their experiences. Additionally, attending motorcycle events and rallies brings together a diverse range of riders, including touring enthusiasts. These gatherings provide opportunities to meet fellow riders, share stories, and discover new destinations and routes.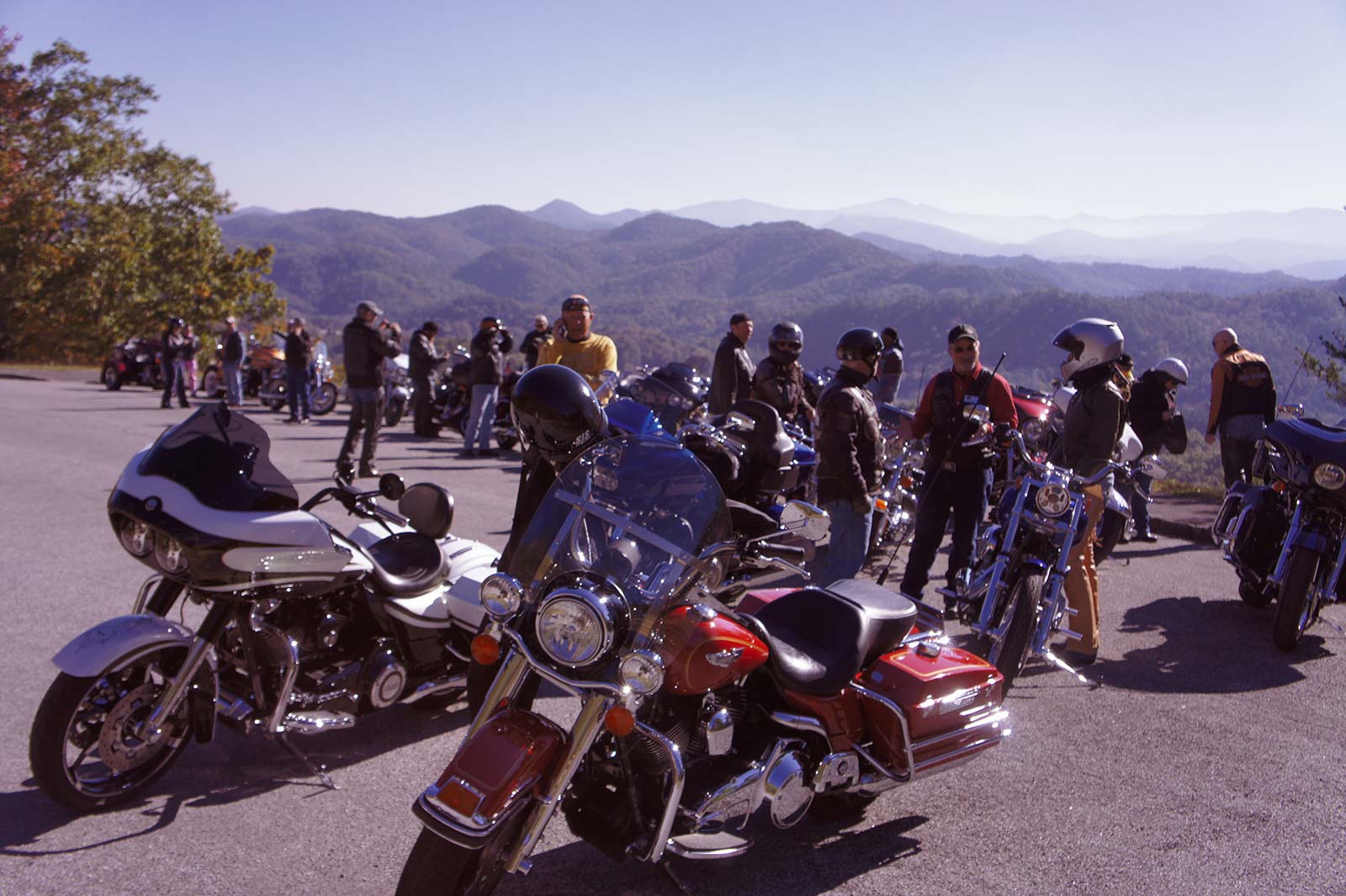 Online forums and social media platforms dedicated to motorcycle touring are another valuable resource. Joining these communities allows you to engage in discussions, ask questions, and seek advice from experienced riders who are passionate about touring. You can learn from their insights, get recommendations, and even find potential riding buddies.
For a more organized approach, consider booking a guided motorcycle trip. These tours provide an excellent opportunity to connect with fellow riders from around the country and having a knowledgeable guide to lead the way can eliminate the stress of planning.
Remember, the key to a successful motorcycle tour is proper planning, preparation, and a positive mindset. Embrace the adventure, stay safe, and create unforgettable memories on the open road! If you've got big touring plans or took your HeliBars on a cross country trip, we want to hear about it! Send us your story and photos of your adventure and we'll share with our community.