We're coming up fast on 2022 and that means new motorcycle products to look forward to. Winter may be the off season for us riders, but we always get excited for the new ways to improve our rides that come with each new year.
HeliBars makes accessories and modifications for lots of different motorcycle brands and models, and we know our riders have their loyalties. This time, we're looking to all the Gold Wing riders who want a sneak preview of what's to come next year.
We spoke with Rick Arnoldo, Gold Wing enthusiast and President of WingStuff to discuss the latest Gold Wing News and give him the scoop on our upcoming 2022 products. Not to mention a quick phone call to Rick's 90-year-old uncle, Frank. Check out the WingCast episode below:
For anyone who's running short on time and can't watch the entire episode, don't worry, we have all the key moments and Gold Wing insights in the show notes below.
How Harry Met Heli
If you don't yet know how HeliBars came to be, this is the story of how a fellow rider, who struggled with numb fingers and a sore back was inspired to make his contribution to the motorcycle community.
So often, motorcyclists spend their free hours cleaning, adjusting and sometimes modifying their bikes with their own acquired skills. Harry Eddy was no different to start. Presented with the opportunity to get a welding certification from his employer and fascinated by the properties of aluminum alloys, he bought a welding machine in 1978 and dove in headfirst.
And so, Heli Modified was born out of his own shop, where he serviced riders with repairs and custom modifications.
Enter Harry's first Gold Wing, a 1995 GL 1500 Interstate, that was a delight to ride but still didn't provide full comfort. The key, he discovered, was in the handlebars.
By modifying the handlebars to fit both the bike and the rider to a T, Harry was able to change the ergonomics to not only improve comfort, but increase control, confidence and safety.
Today, HeliBars have the capability to create handlebar risers and adjustable handlebars for many different bike models, yet Gold Wing's still hold a special place.
How to Tour with Comfort
Of course, HeliBars' products can apply to many different bikes, but we're here to talk about Gold Wings and that means we're focused on touring.
When it comes to riding a touring bike, comfort is king. You're in it for a relaxing ride, no matter the distance you're planning to cover. By adding adjustable handlebars or handlebar risers to your touring motorcycle, you can change your riding position and achieve these effects:
More controlled low speed turns
Balance when stopping
Upright positioning
Relaxed arms and wrists
You can explore our high-standard, American-made Gold Wing handlebars and risers here. And as Rick says, "be careful of the knockoff products!" They are too often made with cheaper components and can undermine the safety and durability of the product.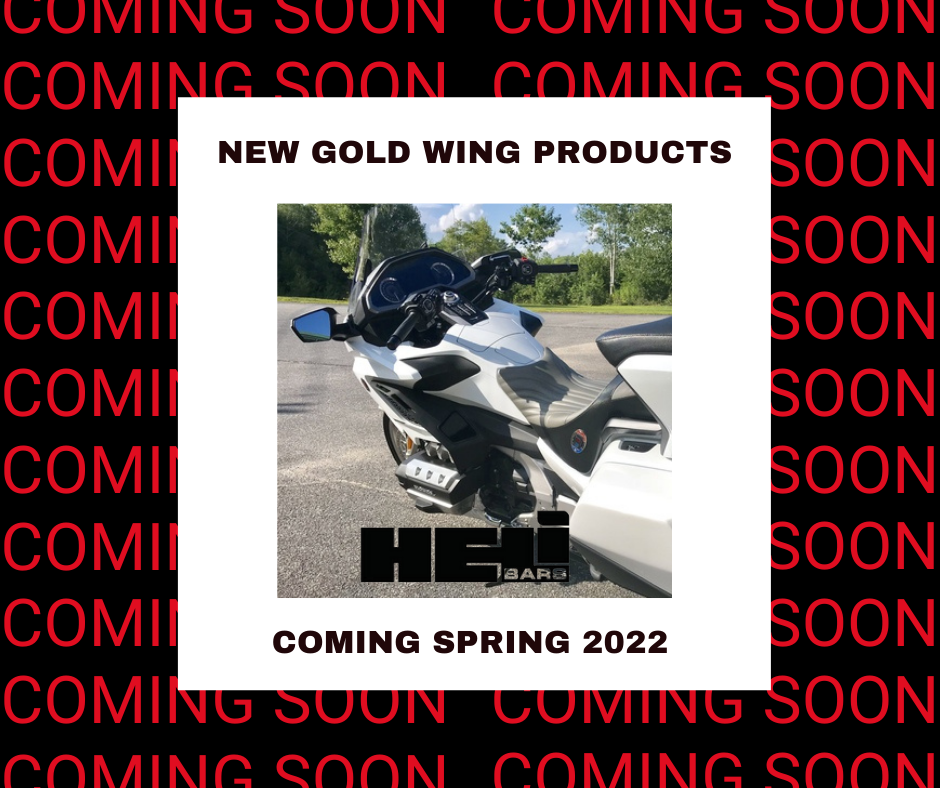 New Gold Wing Products from HeliBars Coming Soon
For all you hungry Gold Wing riders, we have some exclusive insight into the newest products from HeliBars that should be debuting in the spring of 2022.
Gold Wing Handlebars
So many riders have enjoyed the multi-adjustable function of our Horizon SST handlebars but we know that their price tag can seem high. We've been working hard to develop a product that provides 95% of the SST's functions at a more sensitive price.
This new model of handlebars won't have the same multi-axis control, but they will bring the rider's position up and back for a more comfortable ride and include height adjustability. The hope is that these affordable handlebars, developed exclusively for 2018+ Gold Wings, will help hesitant riders make the move to prioritize comfort in their ride.
"This is how I would sum this up on the cover of the book. You just bought a brand-new Gold Wing motorcycle. It's the best touring motorcycle in the world. I'm going to tell you before you take it home, your seat doesn't adjust, and your handlebars don't adjust… It's a no brainer," according to Rick Arnoldo.
Gold Wing Highway Pegs & More
With a background in aviation, HeliBars is looking to bring the highest quality engineering to one of the most common motorcycle accessories: highway pegs. In addition to the development of the foot pegs, HeliBars is also looking into the potential to design improve handrails.
The ability to mount additional accessories like GPS, drink holders and more is becoming increasingly important to riders and HeliBars is aiming to create products that can accommodate those needs.
Chrome Customization
HeliBars is excited to be setting up a polishing system on site in our Cornish, ME facility, which will allow us to create safe and beautiful chrome finishes on some of our products. More information on chrome customization for your motorcycle accessories to come soon!
Fun Facts About Harry Eddy
Though he lives and breathes motorcycles, Harry goes by a title other than President of HeliBars: farmer! In fact, we learned in this WingCast episode that Harry has been developing his own breed of watermelons.
"I'm sensitive about motorcycle ergonomics, but also the taste of a watermelon apparently," he said, laughing.
After 12 years of cross pollination, Harry's watermelon is almost ready to be sold in stores. Look out for this newly improved watermelon variety starting next year! He hasn't yet settled on a name for this super sweet melon, so comment your suggestions below!