2023 marks HeliBars' 30th year being incorporated in Maine. That's right, we're out of our carefree 20's and headed into our "adult" years as a business. But just because we're all grown up doesn't mean we've lost our taste for adventure—in fact, adventure is central to our continued innovations for the years to come…but more on that later.
Some of you have been customers of ours since day one and know the story of how our quest for the ultimate motorcycle comfort began, but we've grown quite a bit since those days. For all the newbies here, and the sentimental ones, we wanted to take a trip down memory lane so you can see just how our handlebar risers got started.
1970s: No Rainbow Without Rain
Did you know the HeliBars family wasn't always located in Vacationland? In the 70's, our founder Harry Eddy was living and working in Massachusetts. When he was laid off by General Electric, he didn't put down his tools or take off his welder's mask. Instead, he turned his creative energy (and newfound free time) to his own welding shop in Wilmington, MA.
Guided by his passion for motorcycles and his desire to improve the function of the things around him, Harry began creating custom ergonomic applications for his own bike and those of his friends. His creations were inventive and wide ranging, from replacement swingarms for BMWs, off road modifications, and even the addition of hand controls to a Harley for a motorcyclist with an amputated leg. These early years were a lesson in how a storm is so often a precursor to sunshine.
HeliBars are Born
While his other inventions were wonderful, it wasn't until Harry got to work modifying his 1987 VFR700F2 that others began to catch on to his genius. He noticed that his new sport bike was uncomfortable to ride, mainly due to a poor handlebar position. In 1987 Harry created the first prototype HeliBars which brought his hands, wrists, and arms back into a relaxed and controlled position.
Pleased with the results, he showed his new handlebar risers to friends, who in turn spread the word to their network of motorcyclists and so on down the line. It seemed the need for a product that improved riding position and comfort was bigger than Harry could have ever anticipated.
The Road Leads to Vacationland
No one can deny that Maine is a beautiful state, with the perfect mix of coastline, forest, and mountains and an easygoing lifestyle to match. With many of their friends already living in Maine, it made perfect sense for the Eddy family to make the move up north in 1992, bringing HeliBars with them. Harry set up a manufacturing shop in the barn of their new home and by 1993, Heli Modified Inc. was incorporated in Maine. While the Eddy family enjoyed "the way life should be," Harry worked hard to make bikes comfortable the way they should be too. The business was growing fast.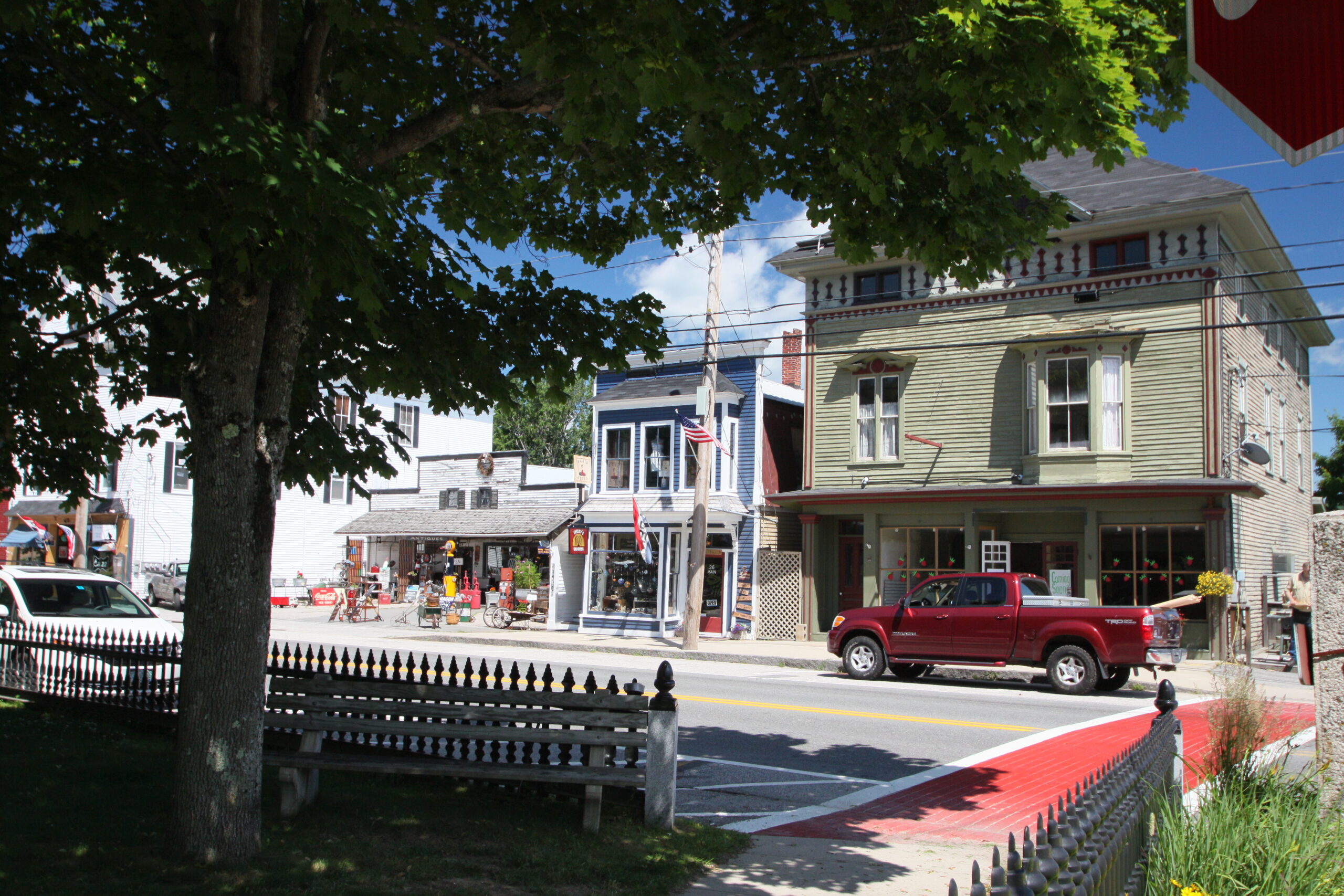 Barn to Business Park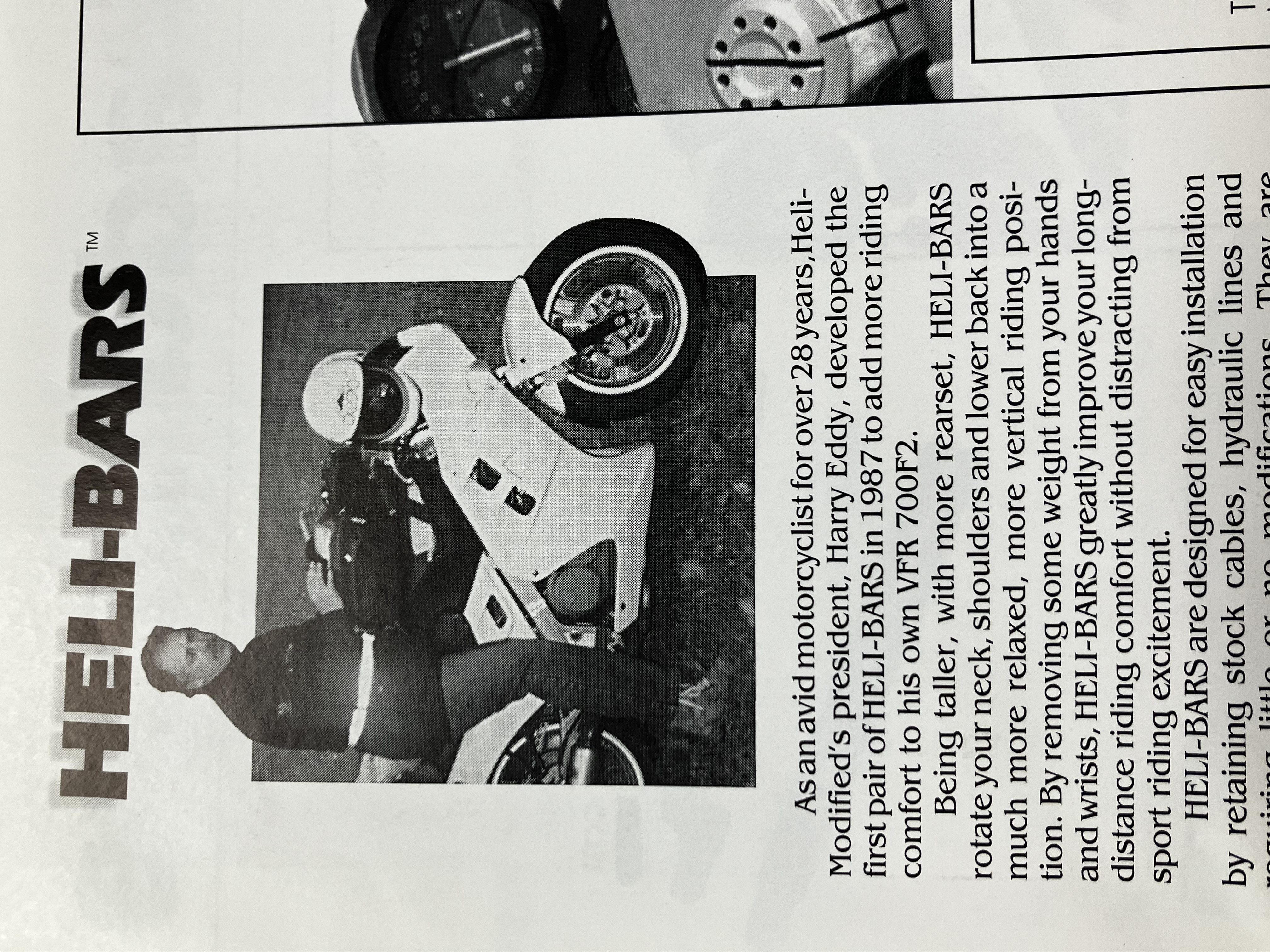 By 1999 demand for handlebars risers meant our company had outgrown the Eddy barn. We moved our operations to an 8,000 square foot leased building in the business park owned by the town of Cornish. In our community of motorcycle enthusiasts, we could see the need for a product that improved comfort and helped riders stay involved in the sport no matter their age, body type, or the bike they rode. Additionally, we wanted our riders to be just as proud of the product they used as we were to make it. We have and always will be a 100% American-made brand, with all the parts and pieces of our handlebars being made here in the USA. It was time to get to work designing and perfecting handlebar risers for all kinds of bike models.
The patented Horizon adjustable handlebars went into serious R&D in 2003, and Harry applied for the mechanical and utility patents in 2005. The full patents were awarded in 2012. Meanwhile we began spreading the good word about HeliBars handlebars through biker magazines, shows and more. To this day, it astounds us just how many riders are putting up with pain, rough road ergonomics, or just giving up on biking completely due to poor handlebar positions. For many of them, HeliBars are a game changer, and we couldn't be prouder to open the door to more comfortable, more controlled rides.
2023 an Beyond
Now at 30 years old, we're not slowing down anytime soon. While we initially envisioned our handlebar risers as a solution for touring and sport bikes we are learning every day that the need for improved comfort exists in every segment of the motorcycle community. After 30+ years of growth, we're lucky to have employees, production lines, global shipping, and all that, but we'll never complete our quest for innovation.
In 2023 we welcomed some new equipment to our production facility that allows us to shot-peen surface materials for a 100% match to the OEM finish. Your HeliBars are not just an accessory but an essential component to your bike and its functionality—you deserve to have handlebar risers that match the look and feel of the bike you were so excited to purchase. This equipment will help us as we develop new and better products for BMW, Triumph, and more. We welcome adventure bikes that challenge us to make riding comfortable in different scenarios.
In fact, we're always looking for loaner bikes that we can bring to our shop and use for R&D as we design new handlebars. In return, bike owners will receive a FREE set of HeliBars especially designed for their model. The biking community is not just our customers, but our partners in creating a better riding experience for everyone. If you're interested in helping us "reach new roads" check out more details about our R&D program.
Cheers to 30 Years
We hope you enjoyed this trip down memory lane with us and are just as excited to see what comes next from HeliBars as we are. We'd love to continue the celebration of our anniversary throughout 2023 with you. If you have a story of HeliBars in the early days or would like to share how you recently found our company, please send us message so we can share!